The alleged beef between Dancehall musician, Samini and 'Landlord' Sarkodie is not ending anytime soon as Samini has called out his colleague for being ungrateful', 'disrespectful and fake.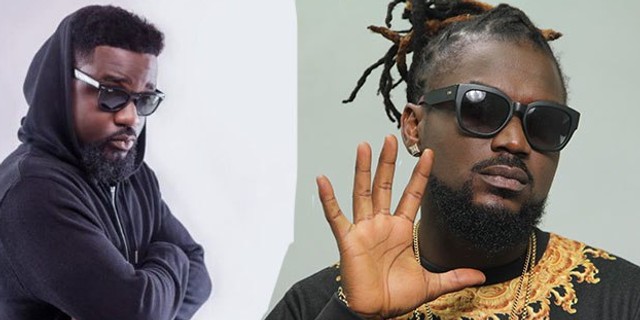 According to Samini, he no longer has intentions of working with rapper Sarkodie on a song following the disrespect from his colleague.
It all started when a Twitter user asked Samini if he had any plans to collaborate on a song with the rapper who is currently making headlines for remaking Bob Marley's classic love song "Stir It Up."
The Twitter user @ahenkrah wrote: " @samini_dagaati please when was the last time you entered the studio with Landlord @sarkodie, and when are u people joining again?"
In response, the Ghanaian music legend who was featured on Sarkodie's 2014 hit song titled 'Love Rock' had this to say: "Not sure I'll need a verse from sark but if he ever does need one, I'm not interested and that's facts. He knows this himself... )y3 Alo sometimes and I don't play that. Yes or no be problem for am so e go slow you and your project go dull …, he did it to me on burning EP."
According to Samini, the famous rapper is fake when it comes to reciprocating favours.
He again lamented how Sarkodie read his messages and ignored his request when he wanted to feature him on his 2021 Burning-EP.
Samini put the likes of Efya, Medikal, and Kofi Kinaata on that project.
He further disclosed that his feature on "Love Rock" was done for free, but when he needed the rapper, he wasn't there for him.
"I did love rocks for free under 24 hours. What you talking about lol. He's just Allo when it comes to returning favors. That's all. Unlike him I do my own hooks and verses and I don't need features to blow. Like I die lol.
@sarkodie you know what time it is we shoot direct."
Samini, however, noted that as a senior colleague, he holds nothing against the rapper, despite the disrespect shown to him.
"I got nothing against @sarkodie and he knows it. He also knows that he Dey owe me personal apology for the blue ticks after having me send 3 tracks and he choosing 1. After asking me if it was a single or an album, to which I answered, it's an EP. He's like coo he's yet to respond" the tweet read.
Concerning the means by which he addressed the issue and the strong words he used, the multi-genre artiste asserted that: "At this age, and with the number of years [under] my belt, I [don't] sugar coat [things]. Don't ask [me] what you [are not] ready to hear."
Sarkodie featured Samini on the 2014 smash hit 'Love Rocks'. The last time Samini had Sarkodie on a song was on 2018's 'My Own Remix' and that was after the original piece, a Samini solo from 2017, had gained megahit status.